Ten people have been killed in an explosion between two underground stations in St Petersburg. The head of Russia's National Anti-Terrorist Committee said the blast hit a train between Sennaya Ploshchad and Tekhnologichesky Institut stations.
The committee said an explosive device was later found and made safe at another station nearby.
Prime Minister Dmitry Medvedev said in a Facebook post that the explosion was "terrorist attack".
An anti-terror investigation has been opened, but other possible causes are being investigated.
What happened?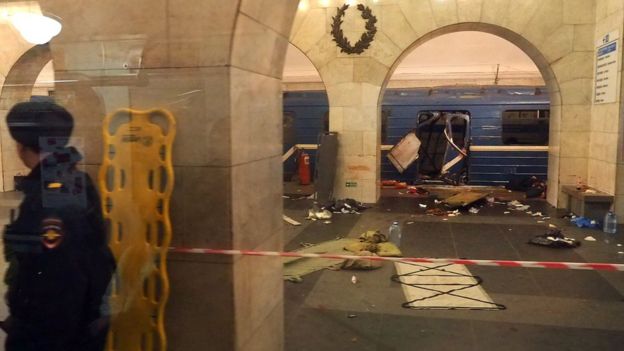 The first images posted on social media showed a train at a platform in Tekhnologichesky Institut station with a hole blown in its side, along with a number of casualties.
Initial reports suggested there had been two explosions, one each at Sennaya Ploshchad and Tekhnologichesky Institut stations.
But the Russian National Anti-Terrorist Committee later confirmed there had been only one explosion, between the two stations, at about 14:30 local time (11:30 GMT).
Senior investigator Svetlana Petrenko told Russian media the train driver's decision to continue to the next station almost certainly helped save lives, as it allowed people to be rescued quickly.
The number of casualties given by officials has differed throughout the day. In the most recent update, Health Minister Veronika Skvortsova said 10 people had died – seven at the scene, one in an ambulance and two in hospital – and that 37 people were hurt.
The entire St Petersburg underground network has now been shut down, and metro officials in the capital Moscow said they were introducing extra security measures there as a result.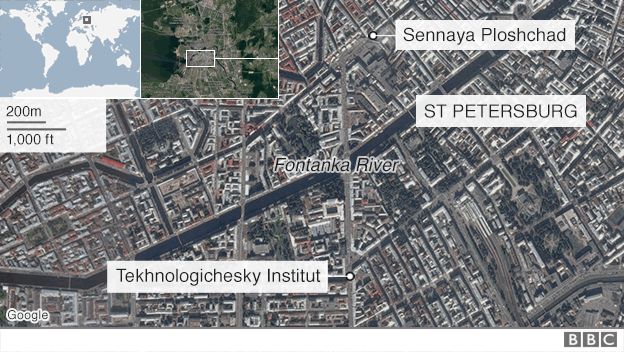 What was the cause?
Andrei Przhezdomsky, the head of the National Anti-Terrorist Committee, said the explosion was caused by "an unidentified explosive device" but that the exact cause had yet to be determined.
President Vladimir Putin said all causes, especially terrorism, were being investigated. He was in St Petersburg at the time of the blast, his spokesman Dmitry Peskov said.
"I have already spoken to the head of our special services, they are working to ascertain the cause," Mr Putin said, at a meeting with Belarus President Alexander Lukashenko.
The discovery of an explosive device at another station, Ploshchad Vosstaniya, indicates the attack was deliberate, and reports in Russia say the explosion came from a briefcase left on the train.